ICP DAS Wired to Wireless Solution is a cost effective solution designed to offer users more flexible and inexpensive ways to send and receive data. The aim of wireless technology is quite simple: to remove the restrictions put on messy wires and cables both inside the site and out. The wireless products by ICP DAS are also designed to be as easy as cables in use. There is no complex wireless connection software or intimate knowledge is required to connect your serial device over wireless. To achieve multiple goals, ICP DAS Wired to Wireless Solutions include , serial to wireless, CAN to wireless, Ethernet to wireless, and wireless I/O products to provide ubiquitous wireless coverage through the entire network.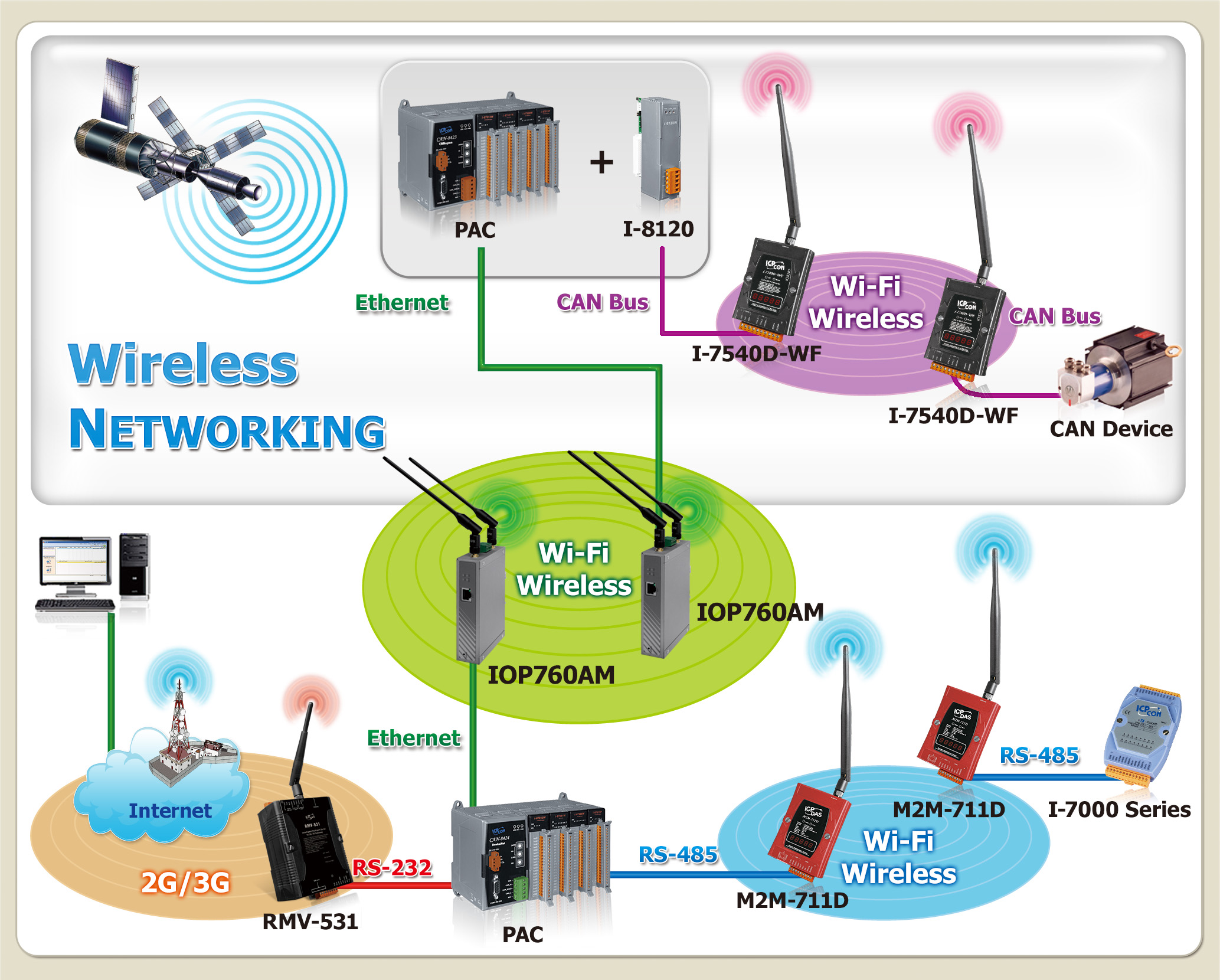 Increase efficiency – improved communications leads to faster transfer of information

Users are rarely out of touch – stay in communication anywhere and anytime

Greater flexibility and mobility – access network more freely

Reduce costs – cheaper to install and maintain a wireless network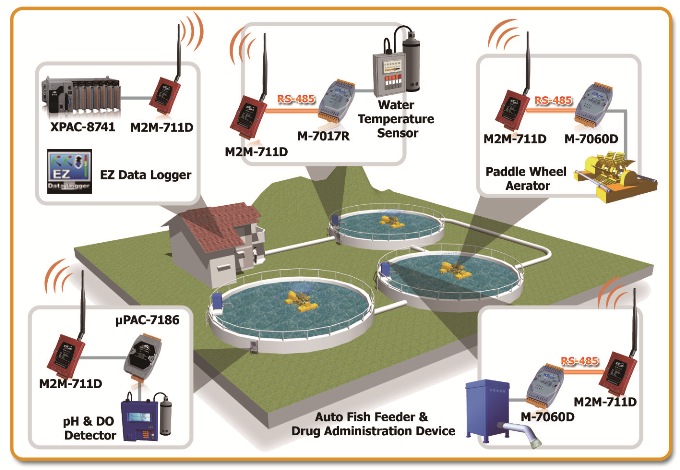 Setting up a fixed-line network on site is relatively complicated, makes the agricultural production technology underdeveloped, and left behind the state of the art in factories of manufactured products. The application shown above is a project aiming to improve the production process in fish farms using new perception, control and automation technologies. Simply converting serial signal to wireless allows fisher to monitor or control fi sh farm easily.
It is easy to convert serial RS-232/485 to a wireless product by wireless modems or with converters instead of running a wire. All of the following products allow you to convert a serial port to a wireless serial connection.
Model Name
Interface
Wireless
Serial to WLAN
M2M-711D
RS-232
Wi-Fi (IEEE 802.11b/g/n)
RS-485
Serial to DSSS RF
SST-900B
RS-232/RS-485
915 MHz
RFU-400
RS-232/RS-485
429 MHz / 433 MHz
RFU-2400
RS-232/RS-485
2.4 GHz
tRFU-2400
RS-232/RS-485/RS-422
2.4 GHz
Serial to ZigBee
ZT-2550
RS-232/RS-485
ZigBee Host (2.4GHz)
ZT-2551
RS-232/RS-485
ZigBee Slave (2.4GHz)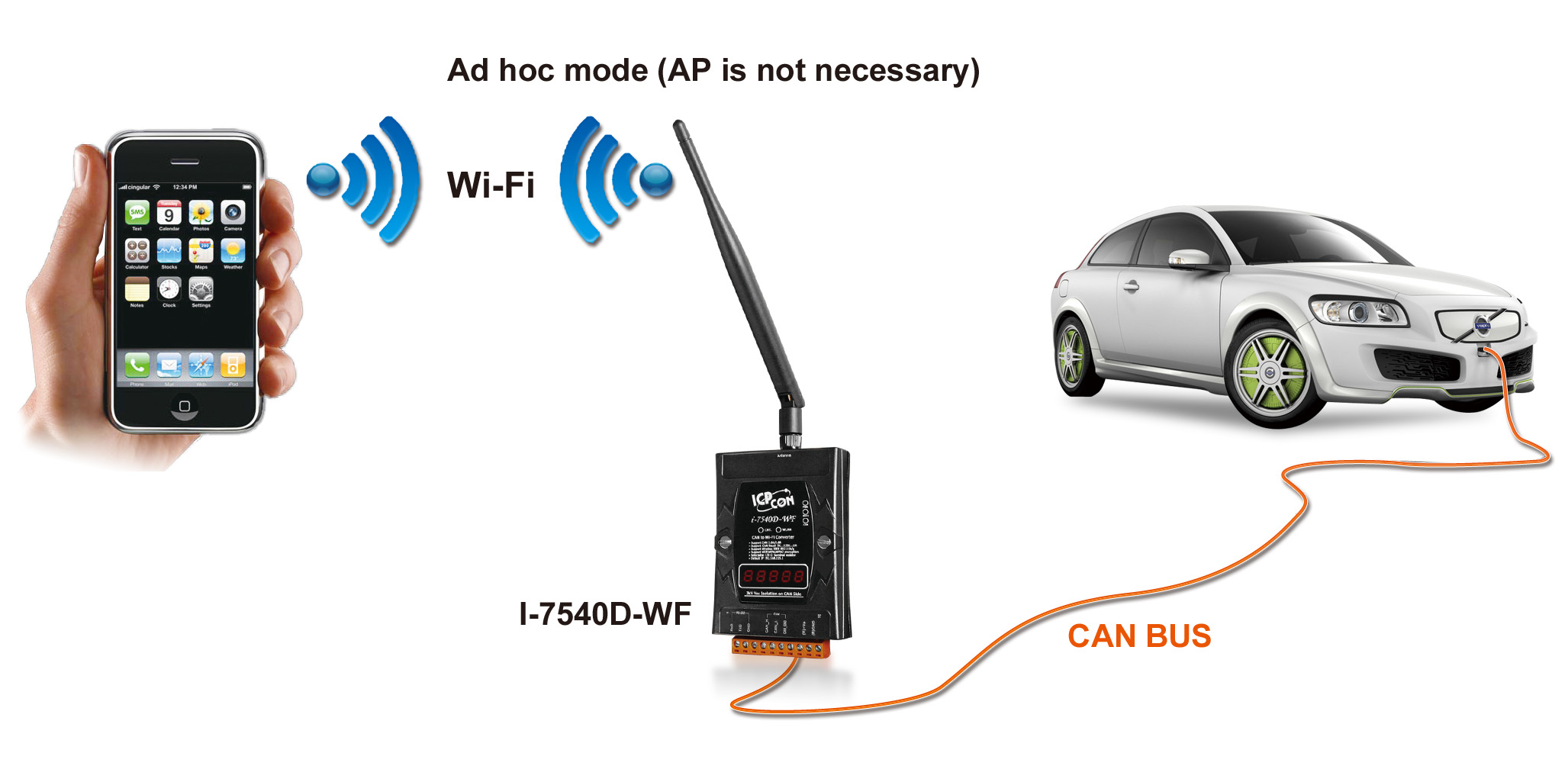 Controller Area Network (CAN)is a message-based protocol,designed specifically for automotive applications but now also used in other areas such as industrial automation and medical equipment. ICPDAS provides CAN to Wi-Fi product to support the wireless transmission of CAN data between various CAN networks or a CAN network and a WLAN network according to the 802.11b/g standard.
Model Name
Interface
Wireless
CAN to WLAN
I-7540D-WF
CAN / RS-232
Wi-Fi (IEEE 802.11b/g)
Wi-Fi AP
APW77BAM
Ethernet(LAN/PoE)
Wi-Fi(IEEE 802.11b/g/n/ac)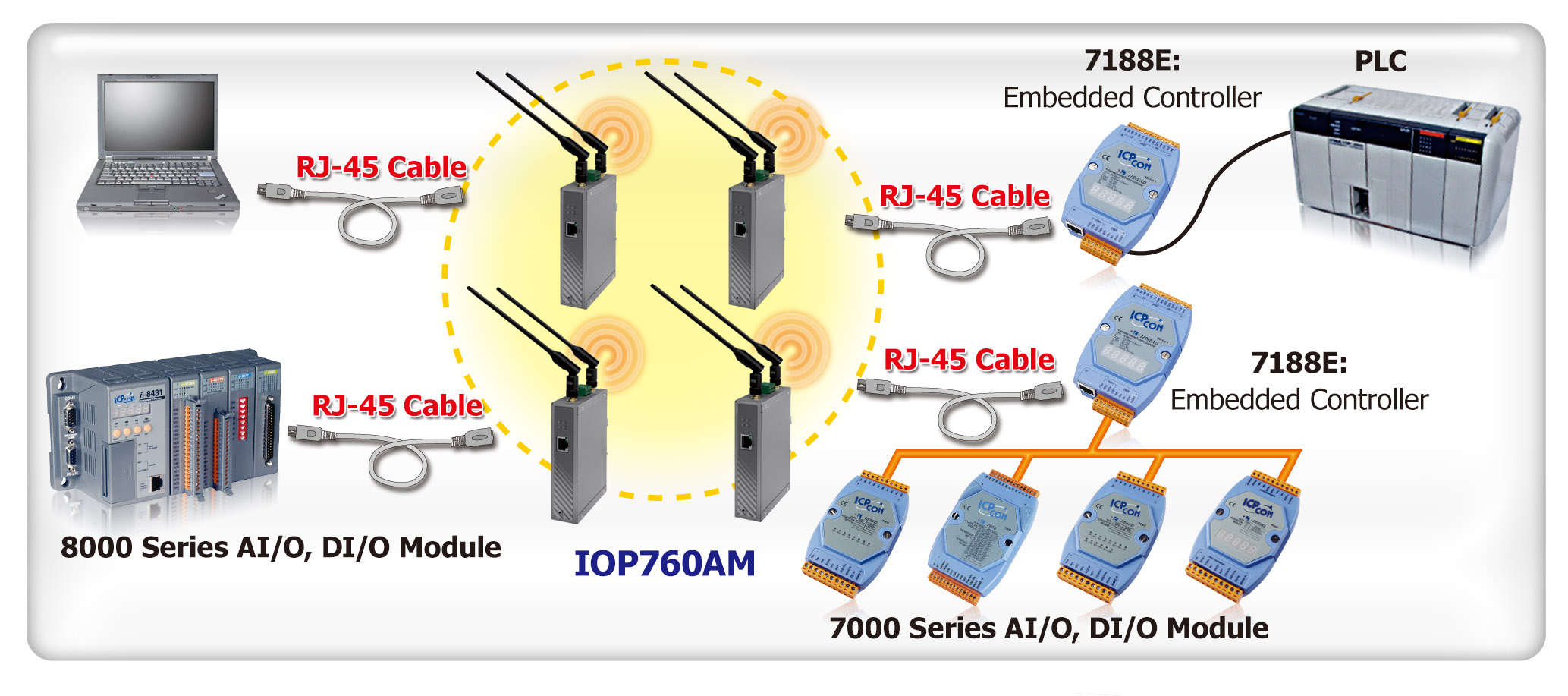 Ethernet is a family of computer networking technologies for local area networks (LANs) commercially introduced in 1980 and has become the public wired network in commerce or industry field. It has great benefits and extends the Ethernet application if wireless technology can be applied in Ethernet application. According to this issue, we develop Ethernet/WiFi and Ethernet/ZigBee for users to apply in their Ethernet application.
Model Name
Interface
Wireless
Ethernet to Wi-Fi
IOP760AM
Wi-Fi/Ethernet/UART
IEEE 802.11 b/g/n/ac