~ New ~

RMV-760D-MTCP
RMV-760D-TCP is a Modbus TCP/RTU gateway. It exchanges Modbus command from Modbus TCP/RTU master to Modbus RTU/TCP slave. Modbus TCP command can be transceived not only Ethernet port but also Wi-Fi interface. It supports VxComm and Pair-Connection functions. Users can choose Ethernet mode or Wi-Fi mode to do the pair connection, which provides TCP data tunneling between two serial devices

Supports pair-connection applications

Supports Virtual COM applications

Application Modes: Virtual COM, MB TCP Server/Client, MB RTU Master/Slave

Supports static IP/DHCP (Ad Hoc mode don't support DHCP)

Ethernet Protocol: TCP, UDP, IP, ICMP, ARP,RARP

Support IEEE 802.11 b/g for Wi-Fi mode and Ad Hoc mode

Support WEP-64,WEP-128, WPA-TKIP and WPA2-AES encryption for Wi-Fi mode

Support WEP-64,WEP-128 encryption for Ad Hoc mode

Auto control channel in AP mode

Provides 1~13 RF channels

Easy firmware update via Ethernet

Removable terminal block connector

RoHS compliant with Halogen-free

Modbus TCP and Modbus RTU data exchange.
Exchange data between Modbus TCP and Modbus RTU.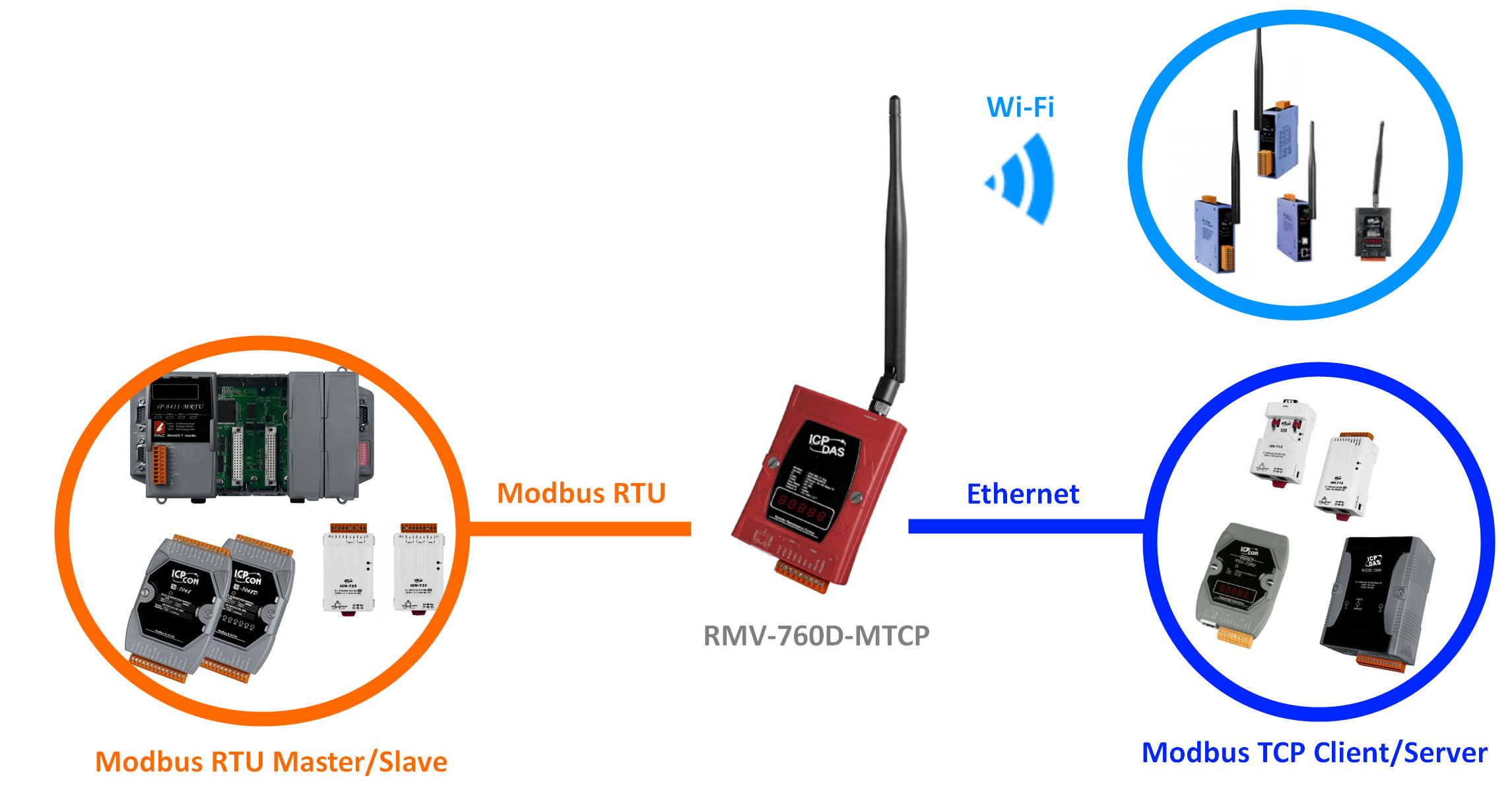 VxComm Mode:
In this mode, users must install  VxComm Driver in the PC to use serial communication.


Ethernet:
This mode use RJ-45 Ethernet cable to connect to the Internet and transmit data with others devices.



Ad Hoc:
In this mode, if the PC has Wi-Fi Wireless LAN Card, users can make the PC and RMV-760D-MTCP transmit data without Wi-Fi AP and the transmission distances up to 50 meters.


ICP DAS provides the RMV-760D-MTCP configuration utility for Windows 2K/XP/Vista and Win 7.
Ethernet Settings
Wi-Fi Settings
Serial Port Settings
Operation Mode Settings

System
CPU
32-bit MCU
Channels
10/100 Base-TX, 8-pin RJ-45 x 1
Wiring

3-wire RS-232

2-wireRS-485
4-wire RS-422
Feature
VxComm Driver
Includes a VxComm Driver for 32/64-bit Windows XP/2003/Vista/7
Pair-Connection
Supports pair-connection applications
Modbus Protocol
Supports Modbus RTU/TCP master and slave
Wi-Fi Interface
Antenna
5 dBi (Omni-Directional)
Output Power
8 dBm @ 11Mbps
Receive Sensitivity
-83 dBm @ 11Mbps
Standard Supported
IEEE 802.11b/g
Wireless Mode
Infrastructure & Ad-hoc
Encryption
WEP, WPA and WPA2
Transmission Range
50 meters (LOS)
COM Port Format
Baud Rate
115200 bps Max.
Data Bit
7, 8
Parity
None, Odd, Even
Stop Bit
1, 2
Power
Input Voltage Range
+10 ~ 30 VDC
Power Consumption
0.05 A @ 24 VDC
Mechanism
Mounting
DIN-Rail
Dimensions (W x L x H)
33mm x106mm x 120mm (W x L x H)
Environment
Operating Temperature
-25 ~ +75 °C
Storage Temperature
-30 ~ +80 °C

| | |
| --- | --- |
| RMV-760D-MTCP | MB TCP/RTU Data-Exchange With Wi-Fi Interface Gateway (RoHS) |
| | For quotation ; For product information ; For project or solution discussion |

Antenna Extension Cable
| | |
| --- | --- |
| | RG58A/U 1 Meter Long RP-SMA male to RP-SMA Female |
| | |
| --- | --- |
| | RG58A/U 3 Meter Long RP-SMA male to RP-SMA Female |
| | |
| --- | --- |
| | RG58A/U 5 Meter Long RP-SMA male to RP-SMA Female |
| | |
| --- | --- |
| | RG58A/U 8 Meter Long RP-SMA male to RP-SMA Female |
External Antenna
| | |
| --- | --- |
| | 8 dBi 2.4GHz External Antenna (Omni-Directional) |
| | |
| --- | --- |
| | 15 dBi 2.4GHz External Antenna (Omni-Directional) |
| | |
| --- | --- |
| | 15 dBi 2.4GHz External Antenna (Directional) |
| | |
| --- | --- |
| | 18 dBi 2.4GHz External Antenna (Directional) |
| | |
| --- | --- |
| | 21 dBi 2.4GHz External Antenna (Directional) |
| | |
| --- | --- |
| | 3 dBi 2.4GHz External Antenna (Omni-Directional) |
| | |
| --- | --- |
| | 5 dBi 2.4GHz External Antenna (Omni-Directional) |